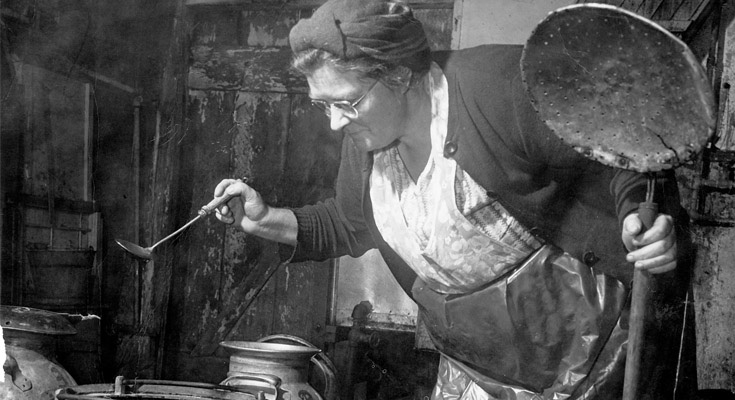 Jellyrolls, light and airy with bright red raspberry jam filling oozing from every slice. Sugar cookies the size of saucers. Pigs in the blankets. What???? Not pigs, of course, but oatmeal cookies shaped in crescent moons with date filling. Doughnuts to die for and cinnamon coffee cakes that made you drool just at the thought.
In the very old days the wood stove would be fired up at first light and carefully tended until the last batch of baking was taken out to cool and then dispatched to the cellar which served as cold storage. Baking was almost always done on Saturday to be ready for Sunday company and had to last the whole week.
With the coming of hydro to Tavistock in 1916 the wood stoves gave way to electric stoves. Recipes changed, too. The days of "a pinch of this" and a "dash of that" became far more specific. The old instruction to "place in a hot oven and bake until done" just didn't work for the newer generation of bakers.
The old recipe books are now great fun to read even though the instructions seem somewhat bewildering. The best of the old books are the church cook books. Often produced as fund raisers, every page featured not just the recipe but whose recipe it was. Women in those days seemingly never had first names, at least not in print. The names shown were always Mrs. Ralph Wiffen (never by her first name, Violet) or Mrs. George Burton (never by her first name Gertie) and so forth.
The "Daughters of Dorcas Cookbook" in our museum collection is one of those church cookbook treasures. It was produced by the Bible Class at Zion Evangelical United Brethren Church (now Grace United) back in the 1950s.
Looking to a slightly newer book to make things slightly easier, we've included some recipes from "Cooking Favorites of Tavistock", produced by the Grace United Church Women in 1971. You might want to fire up your stove and give these a try.
Date Pie from Mrs. William Ducklow
1 pound stoned dates 1 1/2 cups boiling water
1/2 cup brown sugar 1 cup thin cream
3 egg yolks beaten until light
Simmer dates in boiling water for 15 minutes. Put through a coarse sieve. Combine egg yolks and sugar. Blend thoroughly. Add cream and stir into date puree. Pour into unbaked crust and bake in moderate oven until firm. Top with whipped cream or ground nuts.
A bit daunting? The next one is easier.
Banana Cake from Mrs. George Bagg
1 cup mashed bananas 2 eggs
1/2 cup butter 3/4 cup white sugar
3 tsp. cornstarch 2 cups sifted cake flour
1 tsp soda 2 tsp. baking powder
1/4 cup sweet milk 1 tsp. vanilla
1/4 tsp. salt 1 tsp. vanilla
Put all ingredients into a bowl and beat until smooth, light and fluffy. Pour into two 8-inch layer cake tins, greased and lined with wax paper. Bake at 350 until cake leaves the side of the tins.
Enjoy!