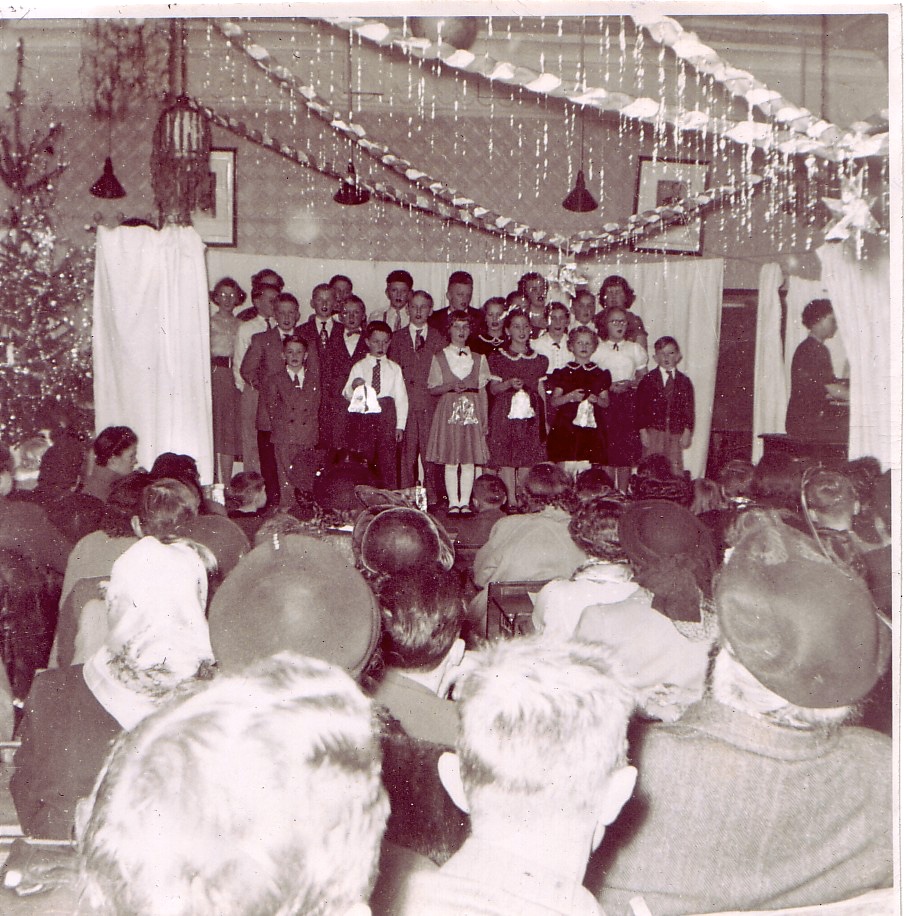 ** The following articles are reprinted, by popular demand, from the Winter 2012 YESTERDAY newsletter.
Standing Room Only -- The Christmas Concert.
Reading and writing and arithmetic were unquestionably the mainstays of school life in years gone by. Ask any student who attended a one-room schoolhouse their favourite memory and almost everyone will say "the Christmas Concert".
Practice for the annual Christmas Concert began in November of each year. By early December the date and time was announced in the Gazette. A typical announcement from 1953 read .... "Christmas Concert, SS # 8, Tuesday, December 22, 8:30 p.m. Everyone welcome".
Costume making was in full production by early December with many hours spent at the cutting board and on the sewing machine. Close to the big day some of the men from the Section went to see Bob Rudy to borrow wood to build the stage. Yes - borrow. The wood was returned after the concert - no charge. Mothers sent white sheets to drape over wires and become the stage curtains. Excitement built by the day and everyone crossed their fingers hoping for good weather. One of the last tasks was decorating the school room with crepe paper streamers and, of course, decorating the Christmas tree cut from a nearby bush.
On that very special concert night the dads who were farmers (which was pretty much every dad) worked fast to finish the chores early so they could put on their Sunday suit and be off to the big event. Mothers wore their Sunday best as well, as did grandparents and aunts and uncles and everyone who attended (which was pretty much everyone in the community). It was standing room only.
A typical Christmas concert in the one-room schoolhouse started with a welcoming chorus by the school (all 8 grades), a welcoming recitation and the Chairman's remarks. It wasn't uncommon to feature 7 or 8 musical solos ... accordian or piano or vocal; 3 or 4 short plays with titles ranging from "What Makes Christmas Merry" to "Bachelor's Lonely Christmas"; several rounds of carols by the school chorus; and a few exercises or drills (the Japanese doll drill was a favourite). Then, when everyone was over their stage fright and just about bursting with excitement .... Santa arrived!
Many times Santa bounded across the tops of the desks calling out " ho ho ho" to boys and girls of all ages as he made his way to the stage.
Honestly - does it get any better? Well, perhaps when Santa gave out a candy bag to each school child, especially if the bag included a popcorn ball. All too soon it was time to go home. The big event was over for another year but the memories lived on forever.
*********
A Very Special Santa
It takes a very special person to put on the red suit and white beard, sling the sack over his back and act out one of the most important parts at Christmas events ... Santa Claus.
For Milt Sippel there was little acting required. Milt was a natural. He had the physical build and the outgoing personality. Best of all, he knew how to keep his Santa identity a secret. Well, almost.
Milt was Santa for years and years at many schools throughout the area. He had his own red suit (size very large), a cap complete with pom pom, white beard and even a mask to hide his identify. Milt forgot one thing. Early in his Santa career he didn't wear gloves. One year, when his son Farrell was about 9 or 10 years old, Farrell recognized his dad's hands giving out the Santa candy bags. The jig was almost up. Farrell was sworn to secrecy and forever after Santa wore black gloves ... as well he should as it's cold in the North Pole.
Another very special Santa was George Wilhelm. George understood the importance of believing that Santa lives at the North Pole and not on the Maplewood Sideroad. It was only this year (2012) that his own children, now all grown up with children and grandchildren of their own, found out why their dad wasn't home on certain nights in late December.